PEI Mutual donation to United Way of PEI to help slanders emerge from the COVID-19 crisis more resilient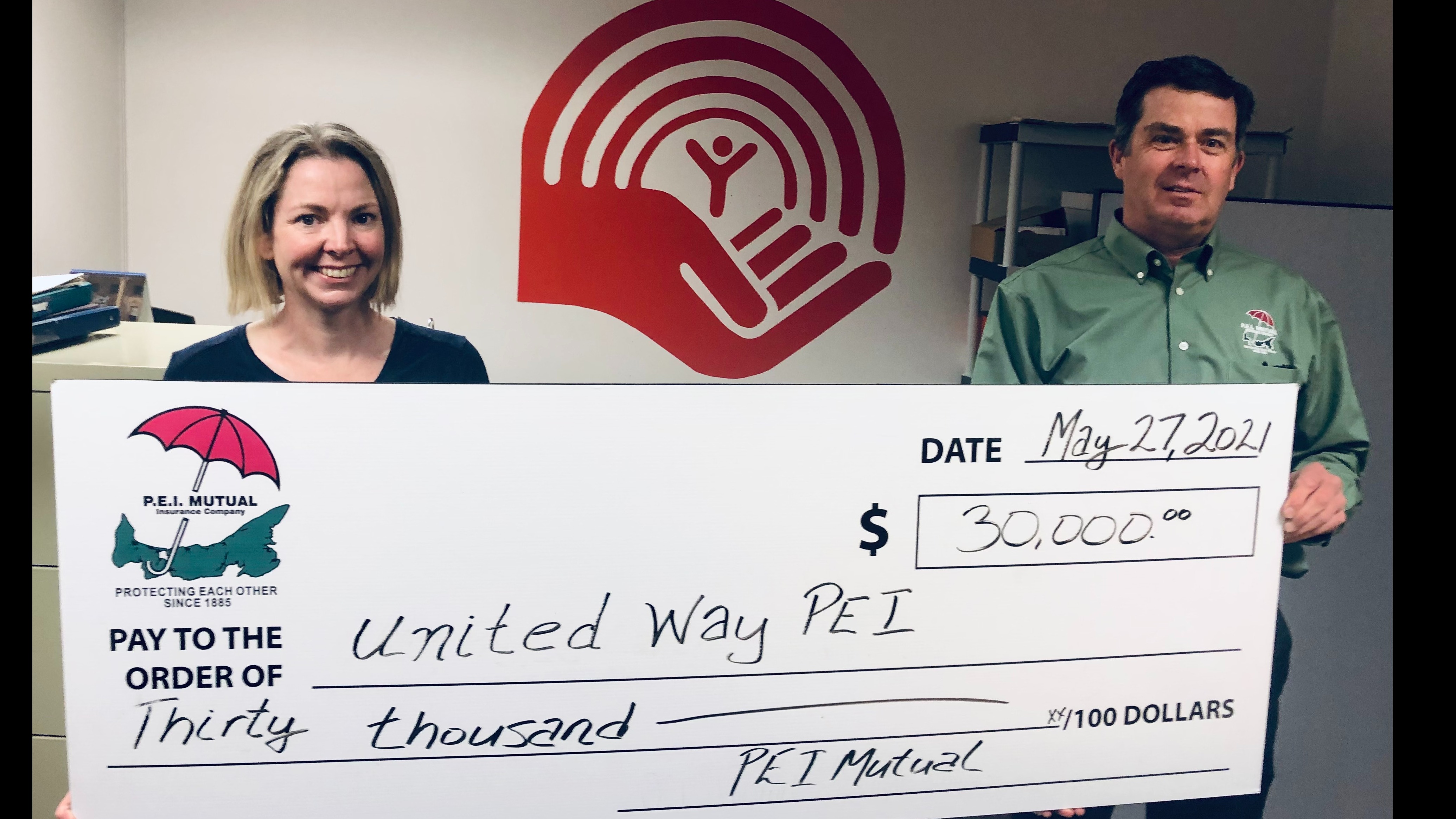 Shane MacKinnon PEI Mutual Board Chair presents United Way donation to Andrea MacDonald, CEO United Way of PEI
PEI Mutual Support Fund
Support, Resiliency, Recovery
PEI Mutual is proud to announce a $30,000 donation to United Way of PEI to help Islanders emerge from the COVID-19 crisis more resilient. The PEI Mutual Support Fund was created to respond to Islander's changing needs and to promote recovery from the pandemic.
The donation will be invested in two ways, with $15,000 being directed to the 211 PEI navigation service and $15,000 being invested in the Community Fund with a focus on mental health.
"As an Island company, we wanted to be able to look back and say that we made a difference in the lives of Islanders when it mattered most. With a little help from one another we will get through this together," said Blair Campbell CEO at PEI Mutual.
According to a recent data and survey results from United Way Centraide Canada, there was a dramatic increase in the number of times Canadians reached out to 211 in January 2021 compared to August 2020 in search of counselling, mental health care facilities, and mental health assessment and treatment.
"With this $30,000 donation, PEI Mutual will support both broad reach and targeted community mental health support for Islanders" says Andrea MacDonald, CEO, United Way of PEI. "More than ever, we need to strengthen our social infrastructure, that network of agencies Islanders visit, call, and rely on in communities across the province and this partnership with PEI Mutual is helping us do just that."
About United Way of PEI
United Way of PEI is driven by community needs and supported by community generosity. We fund programs and lead projects that reduce the impacts of poverty and help build a community that embodies our shared values: trust, respect, compassion, adaptability, and collaboration.
211PEI is a free, confidential information and referral service that connects people to government, and community-based programs and social services in their community. 211 is accessible 7 days a week and available in over 150 languages by dialing 2-1-1 or going to www.pe.211.ca.
About PEI Mutual
PEI Mutual Insurance Company was founded in 1885 and now serves over 32,000 Members. We provide local, personal and professional service from our head office in Summerside and 16 Agents that live in the communities they serve.
Media Inquiries:
Blair Campbell - CEO, PEI Mutual
800-565-5441
blair@peimutual.com
Andrea MacDonald - CEO, United Way of PEI
902.892.2744
amacdonald@peiunitedway.com