United By Song Is Back!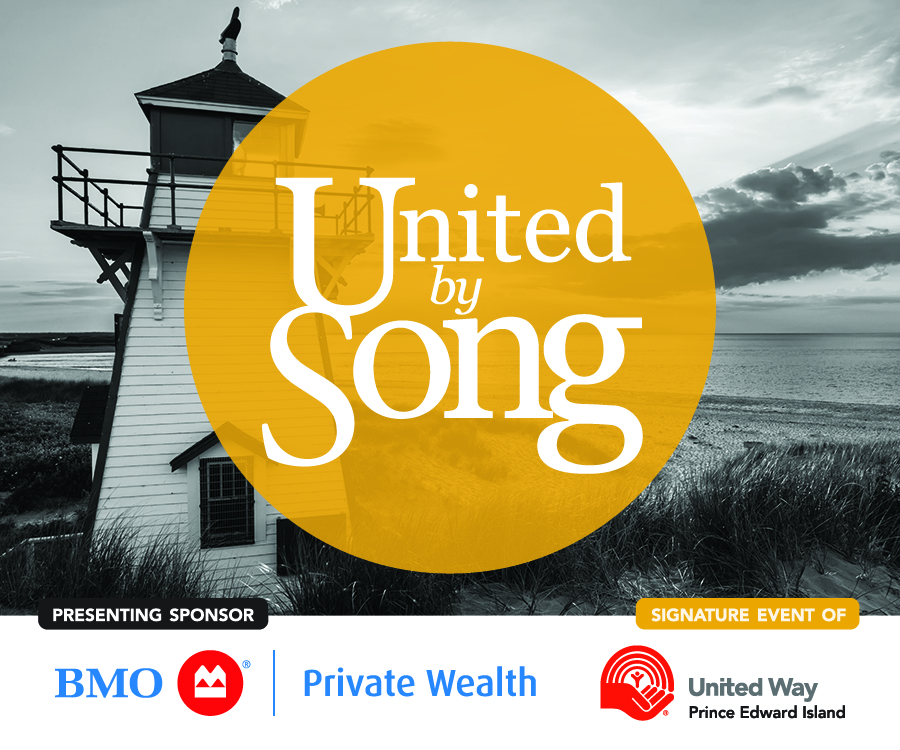 The United Way of PEI is inviting Islanders to attend "United by Song", presented by BMO Private Wealth. United by Song is a unique United Way event that brings together four storytellers whose lives have been changed with support from a United Way-funded agency. Each storyteller is paired with a talented local songwriter who will transform their story into an original song. These powerful stories and songs will be performed live on stage during the event.
"United by Song is a memorable, moving night of music and stories celebrating the resiliency of the human spirit and the power of community. It is a time to thank our wonderful donors and supporters for their generosity and showcase the impact their donations have on Islanders," shares Andrea MacDonald, CEO of the United Way of PEI. "It is very exciting to have such an incredible lineup of local artists and storytellers joining us this year. We invite all Islanders to come out and enjoy this powerful evening."
United by Song is taking place at 7:30 PM on October 19th at the Confederation Centre of the Arts Sobey Family Theatre. Stories will be shared by Josh Rice (BGC Prince County), Eddie Daley (PEERS Alliance), Faye Williams-Wood (PEI Family Violence Prevention Services), and Julie Pellissier-Lush (Native Council). Original songs will be written and performed by Lawrence Maxwell, Alicia Toner, Luisa Güiza, and Tian Wigmore from Wild Horses, with special guest performances from Richard Wood, and Jill Chandler. Produced & Directed by John Connolly.
"BMO Private Wealth takes great pride in giving back to the communities we serve and believes strongly in United Way's work and impact. We have a deeply rooted partnership with United Way Centraides, both across the country and locally here on PEI, that spans more than 60 years," says Jason Downey, Vice President & Market Leader for BMO Private Wealth. "We jumped at the opportunity to be a part of such a meaningful project and are delighted to be supporting United by Song as the presenting sponsor. We look forward to hosting Islanders alongside United Way of PEI at the Confederation Centre of the Arts on October 19th."
Tickets for the event are just $12 dollars and can be purchased at the Confederation Centre of the Arts Box Office, or online at www.confederationcentre.com.
United Way of PEI would like to thank BMO Private Wealth, Confederation Centre of the Arts, Stingray Radio, and DALMAC for their kind support of this special evening.